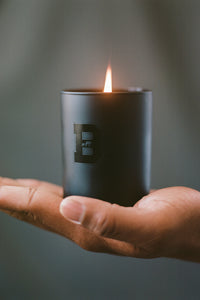 The return of one of our oldest items and collaboration. We are happy to relaunch this collaboration with a scent that has become a branded part of The Brooklyn Circus retail experience for over a decade. 
Top notes: grapefruit peel, cypress and coconut milk.

Heart: Damask rose, honeydew and jasmine petals.
Drydown: Bourbon vanilla, sandalwood, sugar and pale musk.
Established in 2006 by Frederick Bouchardy as both a fragrance brand and design studio, Joya operates in a 19th Century Brooklyn rigging garage turned scented atelier. The company's industrial space—and handmade products—pay homage to America's explorers, entrepreneurs, artists and philosophers.