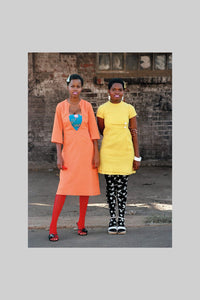 Themes of gender, race, class and social change across three generations of African photography
This book is a comprehensive investigation of photographic works by artists from the African continent and its diaspora. Taking the politics of the "colonial gaze" as its starting point, Events of the Social looks at the diverse complexity of the 19th-century archive through a selection of vintage portraits, cartes de visite, postcards and album pages. Three generations of African artists from the 1940s to the present chart the changing features of African societies through portraiture, exploring notions of the self, gender, sexuality, race, social status and politics.
The book also examines landscape and the built environment, showing how architecture and spatial planning convey social order and ideology while reflecting experiences of migration, colonialism, war and industrialization. Another group of artists, born after the mid-1970s, explores issues of social identity, lineage, questions of belonging and personal experiences.
Artists include: Sammy Baloji, Jodi Bieber, Mimi Cherono Ng'ok, Alfred Martin Duggan-Cronin, David Goldblatt, Seydou Keïta, Zanele Muholi, Malick Sidibé and Mikhael Subotzky.